Introduction
The Musgrove Leukaemic Group Somerset (MLGS) was formed to raise money for the benefit of leukaemia and lymphoma patients and their families in Somerset. It relies entirely on voluntary contributions and spends less than five pence in every pound on administration and fund raising. Since its formation in 1978 the MLGS has raised over £3,000,000 (see news feature below).
Our latest fund raising appeal for 2016-2018 is to raise £384,000 to cover a wide range of requirements including:
Support for the Mobile Chemotherapy Unit
Purchase of vital equipment
Support for key staff
Support for a Children's Unit
You can see a full list of our targets here.
The MLGS is a UK registered charity, No.1036580.
---
News
This year's annual draw raised £1300
Three parents' rooms on the children's ward were refurbished this year
Kirsty Brown - Three Cities Cycle Challenge
Kirsty Brown raised money for MLGS by taking part in the Three Cities Cycle Challenge on 4th September 2016. This involved cycling almost 400 miles from London to Amsterdam over four days. Your support was most gratefully received.
"Bumble's" 5th Birthday Party
Over the past five years, Hope for Tomorrow's Somerset Mobile Chemotherapy Unit, 'Bumble' has been bringing cancer treatment closer to home, visiting communities across the county.
During this time, Bumble has saved cancer patients over 30,000 hours in travel and waiting time and has alleviated many of the stresses and strains associated with travelling long distances for treatment.
The Unit is owned by Hope for Tomorrow and operated by Taunton and Somerset NHS Foundation Trust, with support from the Musgrove Leukaemic Group. A fifth birthday party to celebrate this landmark was recently held at Bridgwater Community Hospital. Attended by patients, nurses and supporters who have kept the wheels turning on Bumble over the past 5 years, staff from Hope for Tomorrow, Taunton and Somerset NHS Foundation Trust and members of Musgrove Leukaemic Group, it was the perfect way to celebrate 'Bumble's' success.
Please see additional information here.
Maureen Hudson MBE
Huge congratulations to Maureen for her MBE in the New Year Honours List. Maureen lost a son Andrew to leukaemia in 1975, and was instrumental in setting up the Musgrove Leukaemic Group in 1978 so that patients could receive treatment in Taunton rather than having to travel to Bristol or Southampton.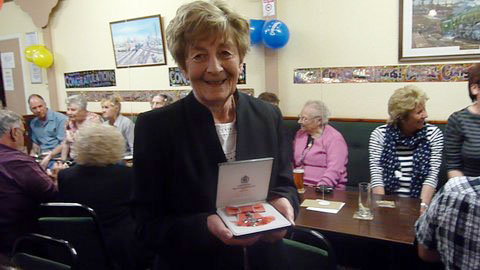 Maureen has remained a Trustee and a very active member for 36 years, in which time the Group has raised over £3.1 million. Her award is richly deserved.
Mobile Chemotherapy Unit to be out four days a week
Tesco have added a power point in the car park of their Chard store. This means that from 2 September 2014 the Mobile Unit will be available four days a week, at Bridgwater, Minehead, Mendip and Chard. It will have a "deep clean" every fifth day.
New facilities funded at Musgrove
Until recently certain patients have needed to travel to Bristol of Yeovil every four weeks to receive specialist treatment, known as Nebulised Pentamidine. Now MLGS has been able to fund the special equipment and furniture needed in Ward 9 at Musgrove Park. This means that those patients can now receive the treatment locally.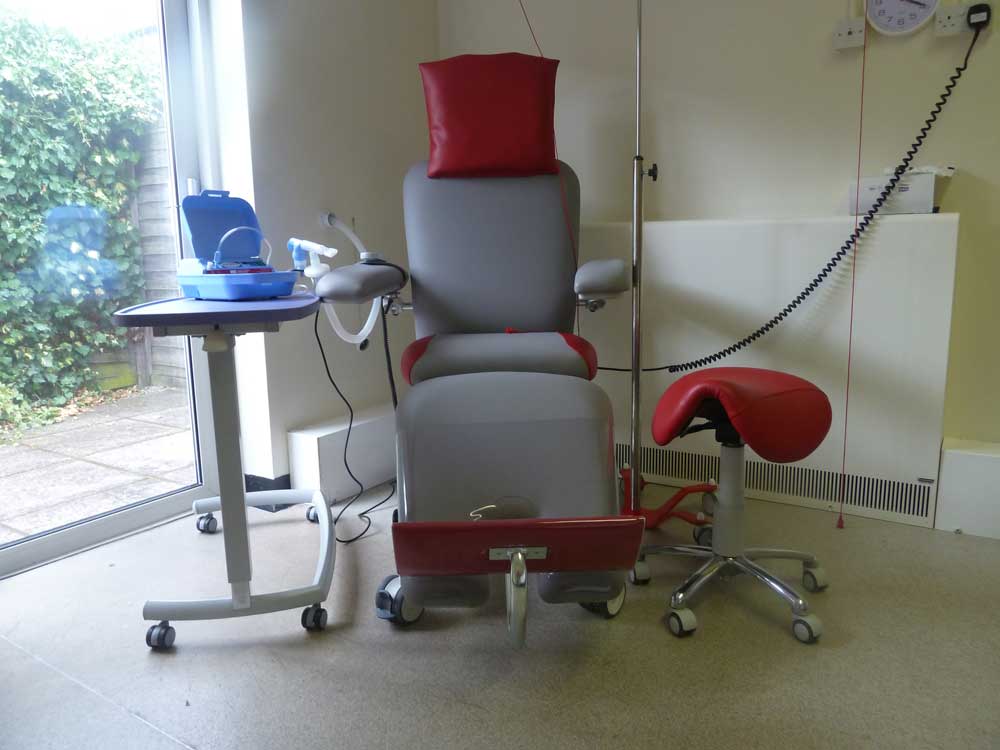 £3 million raised!
MLGS has now raised a remarkable £3M since its formation in 1978
The photograph shows a cake made specially to celebrate. With it are Maureen Hudson (one of the original founders and current Trustees), Simon Bolam (Consultant Haematologist), Caren Attree (Ward Sister), and Trish Reed (MLGS Chairperson).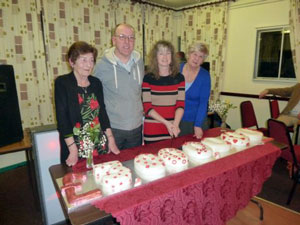 Please see our Achievements page for more news on new equipment funded by the MLGS.
Please see our Events page for details of this and our other fund raising activities.
---
For Jane Rhodes 1956 - 2000