Introduction
The Musgrove Leukaemic Group Somerset (MLGS) was formed to raise money for the benefit of leukaemia and lymphoma patients and their families in Somerset. It relies entirely on voluntary contributions and spends less than five pence in every pound on administration and fund raising. Since its formation in 1978 the MLGS has raised over £4,017,299 (see news feature below).
The Covid pandemic has had a two-fold effect on the Musgrove Leukaemic Group.
Firstly, all the projects we were supporting at the hospital had to be suspended as new protocols introduced by the Somerset NHS FT were put in place for patient and staff safety. This included ceasing the Mobile Chemotherapy Unit service as it was not possible to have social distancing. The same applied to the Complementary Therapists. The NHS Trust does not intend reintroducing these services.
Therefore, going forward, we will continue to support the:
Beacon Centre Day Unit
Children's Unit
In place of the Mobile Chemotherapy Unit there are 3 Haematology Clinics being held in Bridgwater and 2 in Wellington Hospitals with another proposed at Williton.
Secondly, because of social distancing fundraising has proved very difficult. We are very grateful to our loyal supporters, and the Group has been the beneficiary of several legacies that will enable the MLGS to continue to finance projects at the hospital.
The MLGS is a UK registered charity, No.1036580.
---
News
The group have agreed to sponsor a pool car to enable the Haematology Team to guarantee being able to provide three weekly clinics at Bridgwater Hospital and two at Wellington Hospital.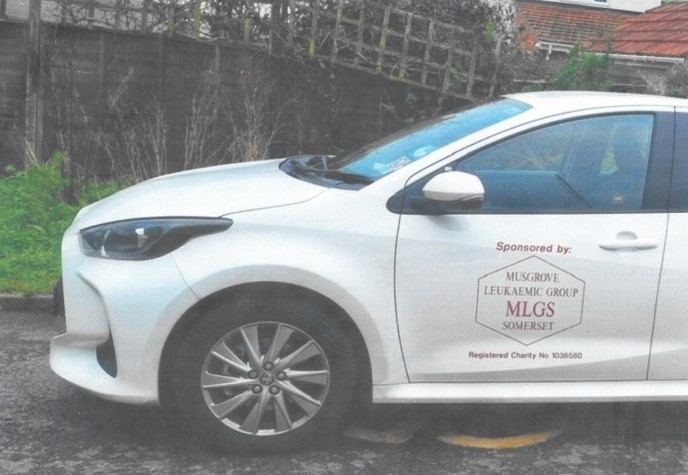 Please see our Achievements page for more news on new equipment funded by the MLGS.
Please see our Events page for details of this and our other fund raising activities.
---
For Jane Rhodes 1956 - 2000